Anna McKay
Ngāruawāhia Volunteer Fire Brigade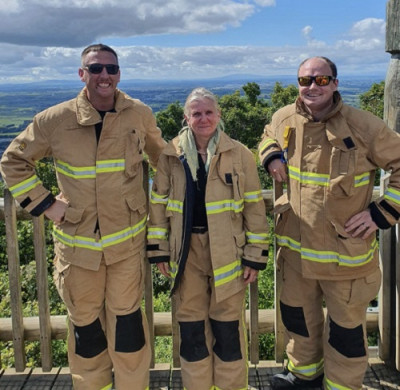 I moved to Ngāruawāhia around ten years ago to be closer to my family, but I did not expect to find my second family in the Ngāruawāhia Volunteer Fire Brigade. They are all a great bunch and I know they will have my back like I do theirs.
My son, Guy Beethem, suggested I join the brigade in 2013 as they were short of people with a Class 4 driver's licence to drive their water tanker – a licence I just so happened to have. Guy also ended up joining the brigade in 2014 with my encouragement.
I love being part of the brigade. It's very special to be doing it with my son and people I consider family now too. I find it very rewarding helping people in need. Everyone I have come across is incredibly grateful which makes some of the more difficult calls a little bit better.
Being a volunteer means that when the pager goes off, we drop and run from whatever we are doing to help those who need. I've had to leave my grandchildren's birthday parties and family dinners with people visiting from overseas. I have to organise myself so I'm not looking after my grandchildren when I'm on call and when I'm playing Mah Jong I have to make sure they can continue to play if I need to leave in the middle of a game.
But I wouldn't have it any other way. Our brigade is very supportive and we all make sure we have a balance in our personal lives.
Being a volunteer is not only a choice that I made but one my family has had to adapt to as well. My daughter was still in high school when I joined. She now has a three-year-old daughter of her own who knows that at family dinners, "beep beep", means Nanny and Uncle need to go. They understand when the pager goes off another family need us more.
A few years ago, Guy signed up to the fire fighter Sky Tower Challenge to raise money for Leukaemia and blood Cancer New Zealand. I love a challenge especially with an amazing cause. So in 2019 I decided to take the plunge at age 69 and hike up the 51 flights of stairs with 25kgs of firefighting gear. I have now done it three times and last year I made my goal of getting up in under 20mins. Now at age 71 I think this will be my last year doing it… but never say never.
Doris Hill
Gisborne Volunteer Fire Brigade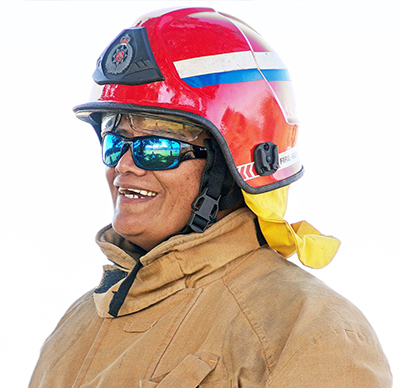 I've always wanted to drive a big red fire truck and more than 20 years ago I took the first step, joining the Juken NZ Industrial and then the Gisborne Volunteer Fire Brigade. You have to work your way up to become a qualified brigade driver. It felt like a big achievement when, after five years in the brigade, I got to get behind the wheel. I'm now a station officer and still get lots of surprised looks from people when I tell them yes, I do drive the fire truck!
But of course, it's more than that. It's about doing something for my community and giving back. As well as being a volunteer, I have also installed smoke alarms in some of the more remote areas in the community near the school where I work and present fire safety programmes (Maui Tinei Ahi) for the schools.
Sometimes I need to leave occasions suddenly, or can't make an event, but my whānau understand my commitment to the brigade and community. When you're part of the brigade, you're part of our family.
My son Tama volunteers with the brigade as well. I was so proud when he said he wanted to see his mother's work. I love that being part of the brigade is something we can share and do together. We even completed the Sky Tower Firefighter Challenge together. Having Tama with me at the top of the 51 flights of stairs is something I'll never forget.
If you're thinking about becoming a volunteer firefighter, or volunteering in a support role, I say go for it! I did and I haven't looked back. It's given me skills and confidence I never knew I had.
Greg Barrett
Spencerville Volunteer Fire Brigade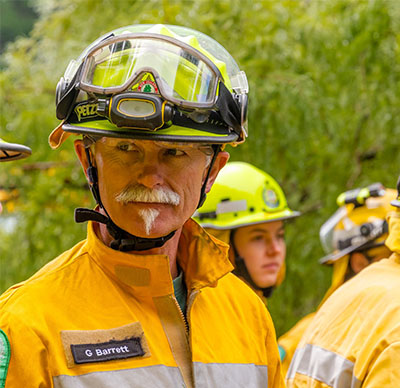 I live right near Bottle Lake Forest, a beautiful and magical spot where we often spend time as a family. I decided to join my local brigade as a firefighter to be part of the team and protect the forest if there ever was a fire.
Since I joined the crew, I've been to about ten rural fires, including time as part of the crew fighting the Port Hills and Nelson fires. But in 2019 I had to put my volunteering on hold when I was diagnosed with Guillain-Barre syndrome, where your immune system attacks your nervous system and causes pain and paralysis. I lost all sensation in my legs and spent three months in hospital, followed by six months learning to walk again.
Once I left the hospital, I approached the fire chief to ask if I could still be part of the crew. He told me that once I was a member, I was always a member. I started attending training nights while still on crutches and, once I was strong enough, started to take part in the training again.
Joining up to be a firefighter isn't like joining a club, it's making a commitment. I own my own business and when I deploy to other regions, my wife and family have to pick up running my business for me. There have also been times where I have been at BBQs and had to leave when the pager went off. My wife has to rely on our family and friends to get home.
Being a firefighter isn't about the glory. It's about being part of a community and serving that community. As a volunteer you get amazing opportunities to meet people and take part in things you'd never usually do, and you get a real sense of achievement. I am proud to be a volunteer firefighter and to be part of my crew.
Jason Aitkens
Athol Volunteer Fire Brigade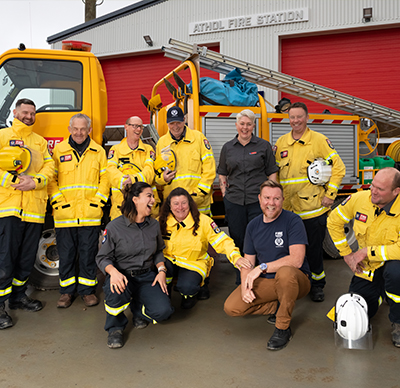 I moved to New Zealand from Australia in 2015 to live with my partner, Scott. We spent the first year together in Queenstown where we operate a couple of businesses, before seeing the light and moving to a lifestyle block in Athol – 45 minutes south. We've lived here for five years now, sharing our life with 14 sheep, eight chickens and our two dogs, Kayleigh and Henry.
I'd never considered joining the fire brigade in the past because I thought all roles were hands on, responding at incidents. I didn't see myself doing that. But a friend who volunteered with the Athol Volunteer Brigade shared a Facebook post asking for volunteers, and non-operational support roles as well. That suited me perfectly as it meant I could be active in the community and meet new people. So I decided to join in a support role and I love it!
I don't go on call outs, but I do things that help the team get their job done. I am the brigade secretary and treasurer shared with one other, and I help out with recruitment and other admin tasks where needed. Who knows, somewhere down the line I might move into a more hands on role, but for now I love supporting the team however I can.
They're a great crew and they made me feel welcome from day one. I couldn't be prouder to work alongside a small hard-working group of volunteers. I would say anyone thinking of volunteering for Fire and Emergency should go for it. There is a role for anyone who is keen to put their hand up and support their community.
Marcia and Ian Hunter
Tora Volunteer Fire Brigade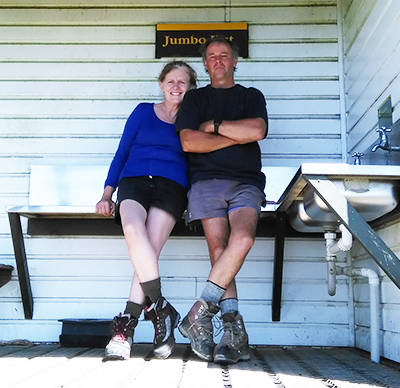 Marcia and I joined the Tora Volunteer Fire Brigade in 1995 as we felt we had an obligation to keep our community safe. I am currently the Controller and Marcia is the Deputy Controller.
Marcia was keen to join when the crew was first formed but initially was put off by being told it was a "man's thing". However, after a local fire that the crew attended in 1995, she decided to join anyway as she didn't want to sit at home doing nothing.
Since we joined, I have completed my training to Level 4 National Certificate in Rural Firefighting and Marcia her Level 2. Marcia is alo involved in peer support and is a member of the Women's Advisory Network in Te Ūpoko.
We are both passionate about contributing to our community. As well as volunteering as firefighters, I was on the Board of Trustees at the local school for over eight years and Marcia volunteered as a swimming teacher at the local school for 17 years.
There's something special about being part of the crew in a community like ours. When we turn up at an incident and people know us, it puts them at ease because they trust us and our training.
Family has always been recognised as an important part of the brigade's culture. When our children were young, they along with other members' kids, got used to attending our Sunday training.
As volunteers, we're always on call, ready to respond when our community needs help. Sometimes that means we miss out on social occasions for example over Christmas and New Year holidays and during the summer fire season, when we also do a lot of Fire Prevention work. However, the main thing is that we're there for the community, to help protect it and keep it safe.
Mel Cleave
Hunua Volunteer Fire Brigade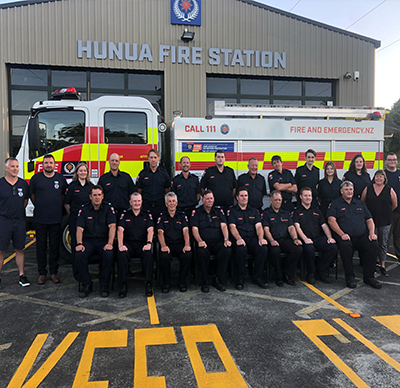 I've volunteered my whole life. I was a lifeguard on the West Coast for 20 years before I had my children. Then I was on the Plunket committee for five years before volunteering to help kids read at my son's school. My son's school then closed its swimming pool, so I was part of the swimming pool committee which successfully fundraised over $200,000 to get the pool renovated and reinstated for our community.
Once my son finished school, I looked for another way I could continue volunteering in my community.
When I heard there was a brigade support role with the Hunua Volunteer Fire Brigade, I thought it was the perfect opportunity. We live right next to the Hunua Fire Station and both my husband and eldest daughter are volunteer firefighters. Initially I was the brigade secretary but now I am the treasurer too. It's special that I can volunteer with my family.
Sometimes we climb into bed tired after a long day at our day jobs and the pager goes off – but you get up and go. That's what we're trained for - to help people when they really need us.
There's a great crew in the brigade. We have a real mix of people. There's the chief who has been around for nearly 30 years right down to younger guys who joined before they'd even left school.
You don't volunteer to get something back. I volunteer to give back to the community. It makes you feel good helping other people.