We see the devastating impacts fires have on families and communities.
To better support communities we've created practical fire safety advice and tips in different languages so we can all understand how we can protect our families from fire.
The materials aim to help raise fire safety awareness, encourage safer behaviours and help the people we serve better understand our role in their communities.
The current set of resources which can be downloaded below include:
Cooking safety videos (currently available in Tongan, Samoan, Fijian, Mandarin, and English)
Fire Safety Tips Flyer in 14 languages (A4)
Kitchen Fire Safety Posters in 14 languages (A3 size)
It's important all New Zealand households remember to install at least one working smoke alarm, and check it is working once a month by pushing the button.
Fire gets real, fast, and becomes deadly within three minutes. Having a working smoke alarm gives you an early warning of fire so you and your loved ones can get out safely.
Have an escape plan. Fire is disorienting and the thick black smoke makes it hard to see, hear and think. Having an escape plan gives you the best chance of getting out to safety quickly. Make an escape plan for you and your household at www.escapemyhouse.co.nz.
Examples
Fire Safety Tips flyer example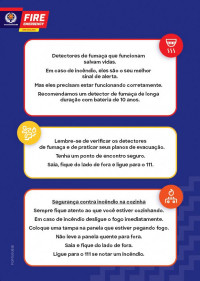 Kitchen Safety poster example