Fighting fires on ice
27 October 2022
Antarctica hosts the coldest, driest, windiest, and harshest environment in the world.
Any fire here is potentially catastrophic.
Antarctica's New Zealand base, Scott Base is well-equipped with smoke alarms, heat-detectors, and fire extinguishers. But there is no doubt that if a fire were to start, or an incident were to occur, they would need trained personnel to get in and do the job.
Since 2015, Fire and Emergency Trainer Rob Millener has been involved with the annual Antarctica NZ training, responsible for making sure Scott Base's seasonal staff are trained and well-equipped to deal with fighting fires.
"Before the summer and winter seasons start, a group of Fire and Emergency trainers from around the country train the Antarctica NZ workers that support the scientists and activities at Scott Base.
"This summer season we trained 30 staff, including the chefs, cleaners, carpenters, mechanics, engineers and electricians," says Rob.
This year the training began in Methven, followed up with three days of intensive training at the Woolston training centre in Christchurch. Then they all head to Antarctica for two weeks to test their newfound firefighting skills.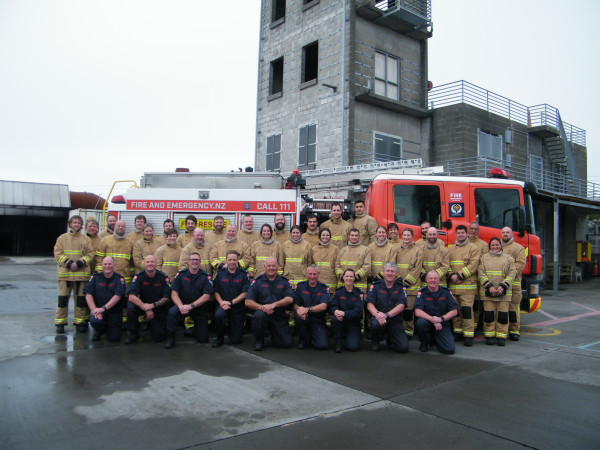 The seasonal staff are trained to provide a specific firefighting response in Scott Base – how to extinguish fires, provide basic medical response, stretcher recovery, and confined space entry training.
"We train for situations the Antarctica NZ staff could find themselves in," Rob says.
These Antarctica NZ staff make up the summer's three Scott Base fire crews who operate on a roster rotation every three weeks.
"Each crew is led by a Fire Crew Chief, who is appointed the role at the Woolston Training Centre based on past experience," says Rob.
This summer season, one of the three fire chiefs appointed is Steph 'Steve' Gates. Steph proved her ability to be calm under pressure and has a background in emergency management.
Steph's Antarctic day job is a domestic/cleaner, but like a Fire and Emergency volunteer, if she were rostered on and an incident were to happen, she'd have to drop tools and run.
"There's a very noisy fire alarm that sounds throughout the whole base. Those who are rostered on will go to the alarm panel, which tells you which room the fire is in, and where the nearest hose is. Then we all carry out our assigned roles to put out the fire," says Steph.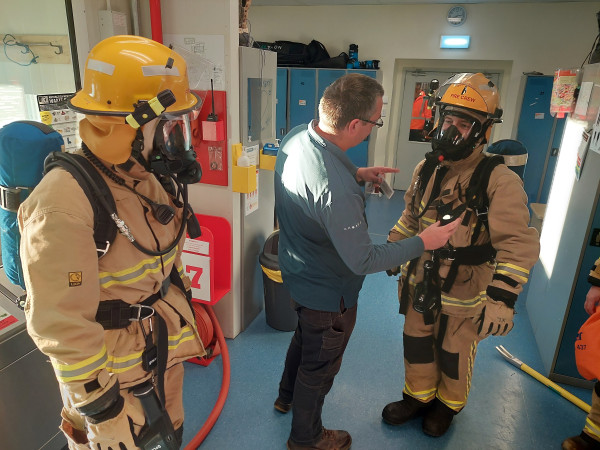 They all have roles, some are responsible for using fire extinguishers and hoses, others operate breathing apparatus equipment.
Steph has fond memories of her training. She recalls her most memorable and 'hilarious' experience in Christchurch, partaking in a search and rescue drill that required her to be blindfolded while capturing cones.
"It's a really good lesson on how quickly you could get disoriented if you have no visibility due to smoke – but it did make us all laugh," she says.
Though she enjoyed the training, it was at times mentally and physically challenging.
One of the hardest drills Steph encountered in Christchurch included walking through a heated room, decked out in firefighting gear, using a breathing apparatus, and carrying a heavy hose – all while in a dark and confined space.
"The test is to build your confidence in a fire, and while the trainers are always there to support you, it was mentally and physically tough.
"It definitely made me appreciate firefighters and what they do, they're so impressive," she says.
When Steph finished her Christchurch training, she was able to put her newly developed skills to the test in Antarctica, taking part in two more weeks of firefighting drills with Fire and Emergency trainers. For Steph, spending this time with the firefighters in the Antarctic conditions was crucial.
"They do a great job in Christchurch of setting up the training centre to feel like you're in Antarctica. But when you actually arrive in Antarctica, the environment is so different," she says.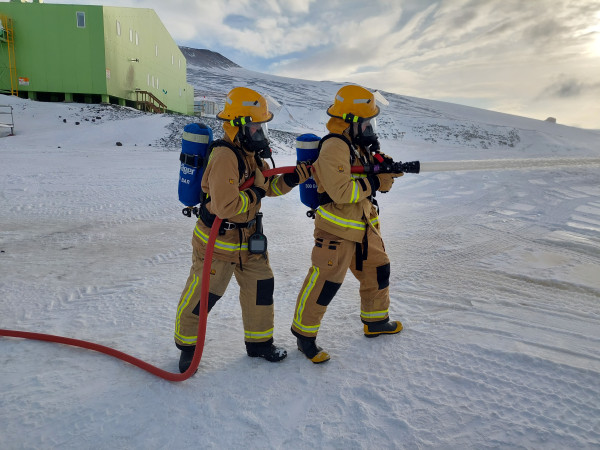 Antarctic temperatures are so cold that the water in a fire hose can freeze if it's not flowing continuously. If a major fire were to happen outside, firefighters would need to take turns fighting the fire to avoid developing frostbite. These are challenges you wouldn't typically encounter in New Zealand.
While the weather inside Scott Base is a balmy 18 degrees, outside the temperature can at times drop to minus 49 degrees Celsius. To put that into perspective, Rob remembers a time where they threw a boiling hot cup of water into the outside air.
"The water turned to ice before it hit the ground," he says.
Despite the harsh environment, if there's one commonality between Steph and Rob's Antarctic experience, it's their appreciation for Antarctica's breath-taking beauty. A place not many people get to experience in their lifetime, but the seasonal workers are lucky enough to call 'home'.
"When you're looking at the vast ice shelf, you remember that it's a massive flat area that's the size of France.
"It is like a whole other world. It's nothing like you will see anywhere else," says Rob.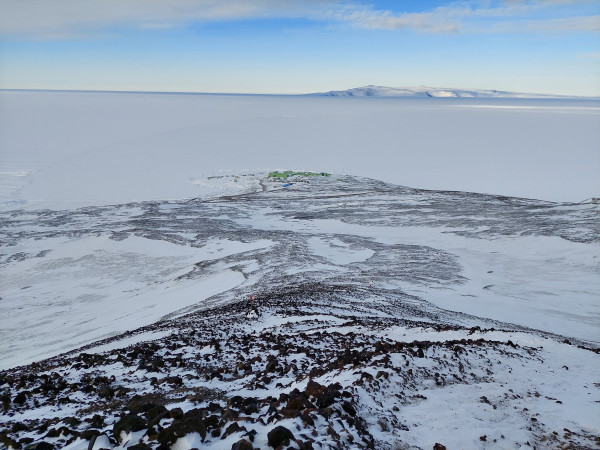 If one thing is certain, thanks to the inter-agency relationship between Antarctica NZ and Fire and Emergency, Scott Base will be well protected for many seasons to come. Antarctica New Zealand Chief Executive Sarah Williamson says the organisation is proud to have such a long-standing relationship with Fire and Emergency.
"Safety is our number one priority on base, so we know with this comprehensive training our people and facilities are in good hands," she says.
Steph feels confident that she's been well trained for the summer season ahead – and that she has Rob and the trainers to thank for that.
"I couldn't have imagined ever tackling fires, but with Fire and Emergency's training, I now feel completely confident," says Steph.